Hello, I'm Brad
Your Friendly Neighborhood Pest Control Professional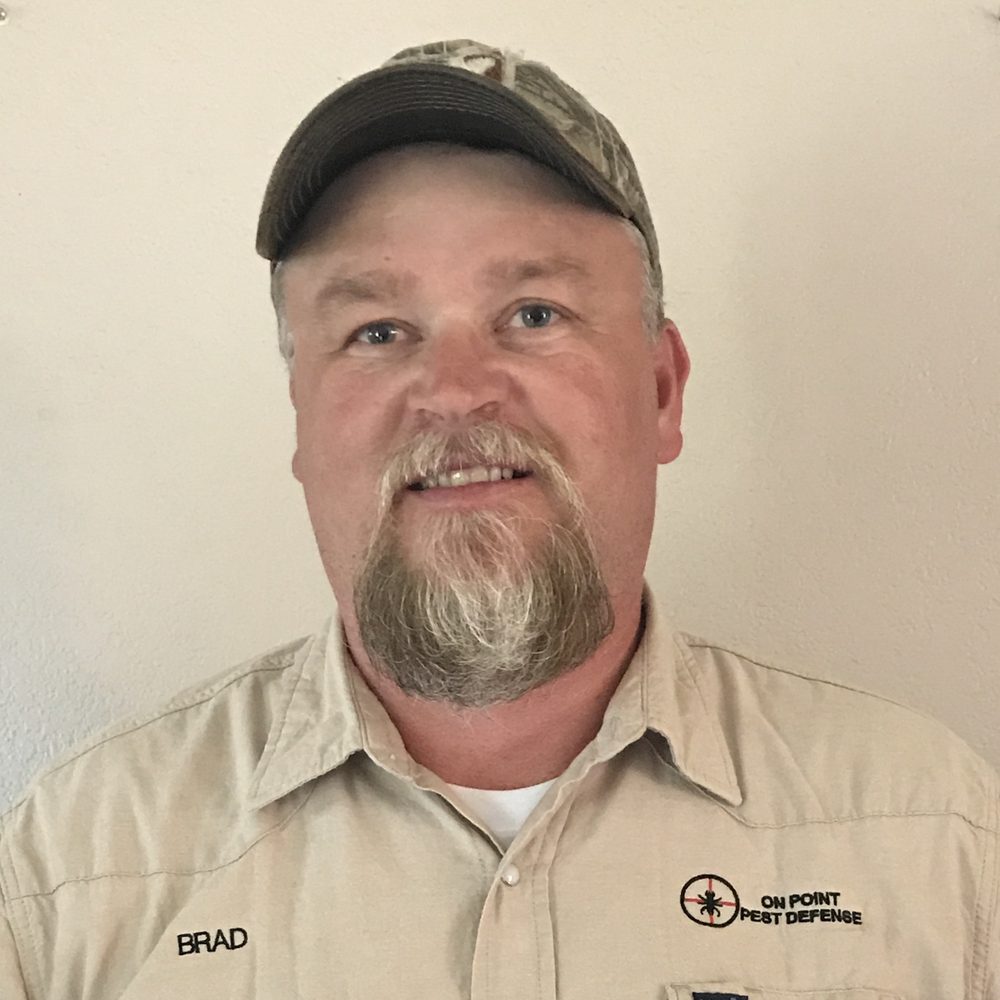 I started in the pest control industry 20 yrs ago and started my own company in March of 2017.
On Point Pest Defense provides excellent customer service and will give you a safe, reliable pest free environment for you and your family at a very affordable price.
I provide calls/texts the night before for your convenience. I also provide free call backs if the need arises in between services.
Yes, I sweep for spider webs on the exterior of your structures at the time of service.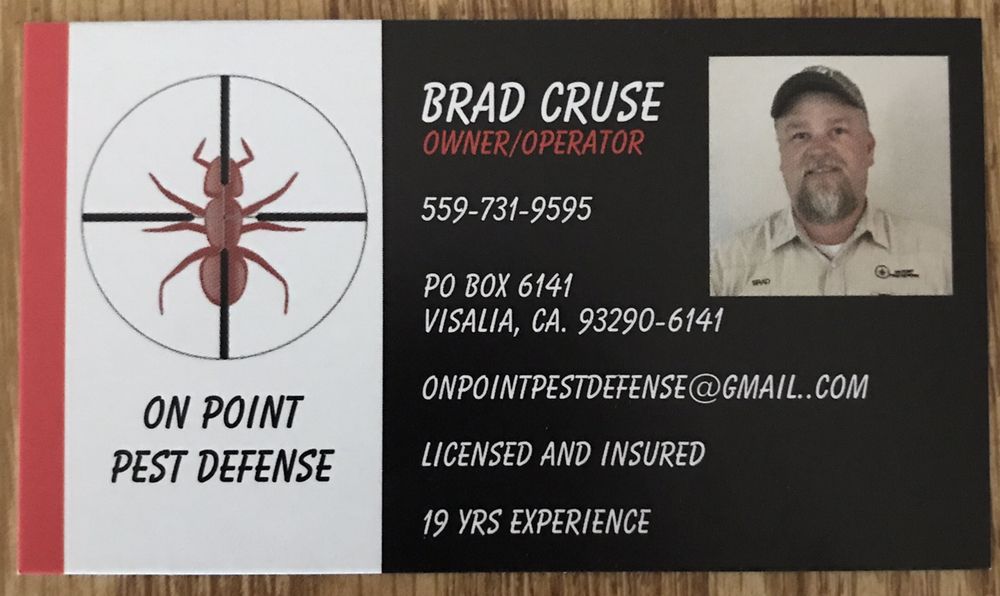 Rodent Extermination
Understanding the unique differences between mice or rats will increase your success in both in trapping and baiting programs
Spider Extermination
Getting rid of other insects with a routine insecticide treatment should be considered, since other insects are their food sources.
Tick Extermination
There are several species that vary in appearance, but all of the adults are small, round with eight legs.
Ant Extermination
To get your ant problem under control, inspection is an important first step.
Cochroach Extermination
Cockroaches are both unpleasant and unsanitary.
Flea Extermination
A flea can jump 7 to 8 inches vertically and 14 to 16 inches horizontally.
You're busy enjoying life around your property and suddenly you're staring face-to-face with an unpleasant and unwelcome "guest".
The words you use to describe to a doctor about what it feels like to instantly have your blood pressure increase manifests itself.
Thinking about how tired you are of staring at the same old pest solutions, and their prices, at the local hardware store.
Deciding that this hassle is just worth delegating to a professional, you call around different pest control companies for their prices.
Some of them are priced crazy high. Some are priced crazy low leaving you wondering what the difference in service would be like between the two extremes.
You decide to give On Point Pest Defense a try.
And become pleasantly delighted by witnessing how a veteran pest professional can service your property with white-glove service and results, at a reasonable rate.
You can get back to your busy life now!
Service Description
On Point Pest Defense will protect your property, inside and out. Pest services extend to commercial and residential structures alike.
Covered pests include the most common and annoying creepy crawlies. Roaches, ants, spiders, earwigs, fleas, ticks and even rodents like mice and rats are covered pests.
Service areas extend into Visalia, Tulare, Exeter, Farmersville, Hanford, Armona and their surrounding towns as well as most of Tulare county and parts of Kings county.
Locally owned and operated. Licensed, bonded and insured.
Testimonials & Featured Clients
Bugs are not our friends. When we were looking into hiring a pest control company, reputability and reliability were our main concerns. Brad's company came in at the top of our list precisely because of what I just mentioned. His responses were prompt and friendly. He arrived to our home within the expected time frame and did a thorough job of spraying inside and outside our home. He reassured us that we were in good hands and safe from pests. We are looking forward to continued business with him.
I decided to check out Yelp to find a pest control Company and I am very glad I did. We have see. A HUGE difference since we had him come out and I haven't seen an alive bug since! We were seeing them on the outside of our home and o longer do! As well as small black spiders on the insane- no more! Definitely going to be seeing him monthly.
I just want to say this guy does what he says, I hired him a year ago we had a ton of spiders and webs while using another company, Brad has cleaned up all webs and spiders, He's prompt, caring about your animals, I love his service definitely a 5 star rating. Thank you Brad
Start Your Pest Free Life Today!
Roaches at your door? Spider webs on your windows? See something creepy crawling around? Just looking for advice? You owe it to yourself to act now!